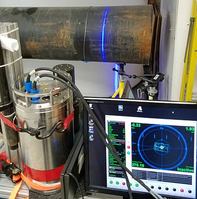 Subsea technology companies, Newton Research Labs Inc., and Sonardyne International Ltd, UK. have announced they have completed tests to integrate Newton Labs' underwater laser scanners with Sonardyne's acoustically aided inertial navigation system for underwater vehicles, SPRINT-Mapper.
The milestone paves the way for greater adoption by industry of mobile laser mapping technology to survey seafloor sites and subsea structures, and eliminates many of the challenges currently faced by users when attempting to configure advanced sensor technologies from different vendors prior to mobilising equipment offshore.
Newton and Sonardyne entered into a formal collaboration agreement in late 2017 to develop and promote dynamic underwater laser mapping, a rapidly emerging survey technique which significantly reduces the time needed to carry out inspections using underwater vehicles, including ROVs and manned submersibles.
The work carried out at Newton's facility in Seattle in January by Sonardyne and Newton engineers included configuring the inertial and time synchronisation data output from SPRINT-Mapper to pass directly into Newton's high performance range of underwater laser scanners.
Now, an underwater vehicle fitted with a Newton underwater laser, is able to capture high density point clouds of subsea assets and environments whilst on the move.
As the vehicle moves around the site, the SPRINT-Mapper hardware, also fitted to the vehicle, simultaneously collects acoustic range and inertial navigation data. On completion of the survey, the raw navigational data is post-processed and merged with the laser data to produce a georeferenced 3D point cloud from which centimetric level or better engineering measurements can be taken.
By adopting a dynamic platform such as an ROV navigated using SPRINT-Mapper, the high-resolution laser data is no longer constrained by a stationary deployment location which means an entire site can now be surveyed quickly and with the flexibility to overcome adverse conditions such as visibility. As the underwater vehicle does not have to come into contact with the seabed at the survey site, it can move to scan any target of interest from a variety of perspectives. This results in archaeological surveys, pipeline and free span inspections, structural integrity monitoring and one of the most demanding of all survey tasks, pipeline metrology, all being conducted in much less time than static laser scanning.
Edward Moller, Global Business Manager at Sonardyne says, "The performance of our SPRINT-Mapper in now providing centimetric wide-area navigation and millimetric local navigation, whilst simultaneously providing motion compensation for laser scanners, is remarkable. Combined with the high resolution of Newton laser scanners, mobile laser mapping is now a real game-changer."
John Bramblet, President and CEO at Newton Labs says, "Integration of Newton Labs underwater lasers with Sonardyne SPRINT technology allows our high, 0.1 mm, resolution scanners to perform virtually any laser scanning project, whether it is full field scanning, pipeline scanning or high resolution corrosion and crack detection all from a mobile platform."