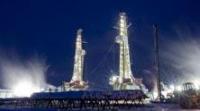 Nexen Energy ULC (Nexen) is responding to an incident at its Long Lake oil sands facility south of Fort McMurray.
In the afternoon of July 15, 2015, an emulsion leak from a pipeline was discovered within Nexen's Long Lake operations. Our emergency response plan has been activated and our response personnel are onsite. The leak has been stabilized and the site is under control.
The size of the spill is estimated to be 5,000 m3 of emulsion, over an area of approximately 16,000 m2 mostly within a compacted pipeline corridor. Emulsion is a mixture of bitumen, produced water and sand.
All necessary steps and precautions have been taken, and Nexen will continue to utilize all its resources to protect the health and safety of our employees, contractors, the public and the environment, and to contain and clean up the spill. There were no injuries due to this incident and the pipeline has been isolated. Nexen continues to investigate