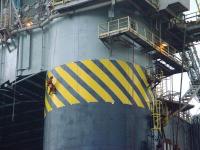 Many of the challenges faced by the offshore maintenance sector are being addressed by a breakthrough in technology from Sherwin-Williams Protective & Marine Coatings Europe, Middle East and Africa (EMEA).
Acrolon 1850 is a non-isocyanate high build finish coat for exterior exposed surfaces and has been designed to meet the unique challenges faced by the offshore sector.
This sector provides a range of maintenance challenges for the coating industry such as safety colours which are used to coat offshore assets but typically give very poor opacity and coverage.