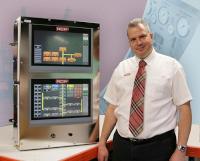 Rig Control Products (RCP), which has offices in Aberdeen and Singapore, has launched the latest version of its Travelling Block Monitor (TBM) following a 6-month period of design and product development.
The TBM is an advanced electronic floor and crown saver system, designed to continually monitor travelling block parameters in order to calculate a safe working envelope for the blocks.
The system has been proven to avert serious equipment collisions on the drill floor, making it a safer environment for personnel to work, as well as providing time and cost savings associated with equipment incidents, downtime and HSE investigations.
RCP, which was established in 2003, enhanced the design of the TBM following feedback provided by customers. The new system is designed with extended operational longevity in mind, a capacity for displaying and re-calling historical system data, and inbuilt diagnostics with condition-based monitoring, to reduce the need for offshore technical assistance.
Ben Knight, managing director of RCP, says, "We are constantly striving to innovate and advance our technology in line with our customer feedback, as it is highly important that we provide the industry with the most up-to-date and modern system that equips workers with the tools required to compete the job safely and efficiently."
"The launch of the new TBM system will provide operators with visible benefits from the outset. Operators and technical crew can monitor the system responses using a full colour panel with a wide range of operating information available on screen. The system's data logging capabilities can also monitor how efficiently it is being operated, making the new TBM virtually maintenance free," adds Knight.