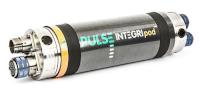 Pulse Structural Monitoring, an Acteon company, has launched a third generation INTEGRIpod™ platform as a new addition to its INTEGRI™ range of structural monitoring sensor systems.
The INTEGRIpod NXT platform has been specifically developed to meet the needs of the offshore oil and gas industry in the current market; offering industry-leading features in a standard, modular format. Along with a range of new features, the new INTEGRIpod platform will support INTEGRIpod's impressive track record of reliability and robust performance, proved in millions of hours of successful ultra-deepwater subsea operations since the product range launched in 1998.
Typical applications for the INTEGRIpod™ range include linear displacement and static and dynamic inclination of subsea structures such as BOPs, wellheads, conductor systems, mooring lines, and jumpers. With industry-leading on-board processing capabilities, measured data is processed in real-time and transmitted wirelessly or hardwired enabling instantaneous operational decision-making. The new platform also allows for deployments in excess of one year between battery change-outs due to new features such as "Smart Logging", which enables the device to deploy and only record phenomena over client-defined thresholds; significantly reducing campaign costs and the need for offshore interventions.
Sandip Ukani, technical director, Pulse, says, "At the core of the new platform is a 32-bit ARM™ processor, which offers low power consumption with significant on-board processing capability; delivering best-in-class battery life. The on-board MEMS gyroscopic sensors deliver unrivalled precision and accuracy. The platform allows communication over various connectivity options, including hardwired and acoustic, and can communicate over various industry standard open communication standards, such as RS232/485. Additionally, a multitude of connectors allows direct integration of Pulse's proven sensor family, including the INTEGRIstick™ (Curvature Sensor), INTEGRIstrain™ (Custom Bonded Strain Gauge Packages) in addition to any third party sensor package."