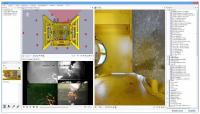 Aberdeen-based Return To Scene Limited, part of James Fisher and Sons plc will launch the next generation of its award-winning visualisation system, R2S Mosaic, at the SPE Intelligent Energy Conference and Exhibition being held in Aberdeen this week.
R2S Mosaic is set to challenge the multi-billion-dollar laser scanning industry by providing users with a navigable, 360-degree photographic interface with intelligent depth. This includes PDMS integration capability and point cloud measurement accuracy. The latest R2S release represents a triumph of collaboration. From the vital feedback of user groups, customers and partners to the skills and commitment of Return To Scene's designers and developers, teamwork has played a major part in creating this next generation visual asset management system.
Based on the same principles as the previous award-winning version of the R2S asset management system, R2S Mosaic includes many new features and functionalities designed to optimise workflows, improve understanding and increase efficiencies. The technology utilises photographs to create a highly accurate point cloud, and has already been field tested.
PDMS overlay provides users with the "as built" and "as 'is" comparison capability while other key features include: intelligent search function; live data feeds; and the ability to view R2S projects in ATEX-rated tablets.
Bob Donnelly, MD of Return To Scene Ltd, comments, "SPE IE2016 is the ideal platform for our launch of R2S Mosaic and this is an incredibly exciting time for our team. Throughout this period of industry uncertainty, we have worked closely with our clients, adapted to change and pressure from industry bodies, government and the global market. Bringing R2S Mosaic to market has been a positive focus and in successfully conducting a feasibility study, research and development and field testing all in under two years, we are meeting the innovation demands of industry in real time."
"The R&D conducted for R2S Mosaic has already created further development opportunities as we continue to look to the future. The first of these being our dimensional control capabilities which we can already offer as a stand-alone service deliverable," adds Donnelly.