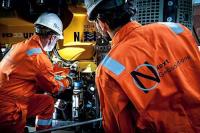 NEXT Geosolutions UKCS Ltd (formerly RMS Submarine) will continue to support J-Power Systems (JPS) for a third year in the provision of key personnel for both onshore and offshore, survey, engineering and installation operations for the Nemo Link®.
Personnel supplied by NEXT during 2016/17 and for ongoing 2018 support include onshore Project Surveyor/ Engineer's and nearshore/ offshore client representatives for marine survey, geotechnics, ROV UXO, PLGR, drift net surveys, beach landings, cable lay, cable PLJR & burial, amongst other scopes. The 2018 scope of 71km will complete the installation phase of the project.
JPS hold the contract to supply and install Nemo Link®, an HVDC interconnector that will connect the UK and Belgian's electricity systems via 140km, 1000MW subsea cables, allowing the two countries to trade electricity and will give both countries improved reliability and access to electricity and sustainable generation
NEXT UKCS are supporting Thornbeck Design Ltd in the supply of personnel to JPS with a shared commitment and ethos to the provision of high quality, competence, and innovative solutions to our clients.
NEXT Geosolutions UKCS are the newly named UK entity of NEXT Geosolutions Group. NEXT are an independent global marine geoscience and engineering service provider operating in the Energy, Infrastructure and Utilities markets.
NEXT UKCS specialise in O&M, IMR, subsea inspection, nearshore survey services, consultancy and client representative/project management supply, and R&D/Innovation.