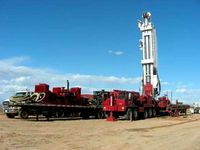 Nighthawk, the US focused oil development and production company, announces an update on production at its 100% controlled and operated Smoky Hill and Jolly Ranch projects in the Denver-Julesburg Basin, Colorado.
Highlights
◾ Average gross oil production in September 2013 of 1,408 barrels per day ("bbls/day") ◾ Average gross oil production in third quarter 2013 of 1,528 bbls/day, a 142% uplift on the second quarter 2013 ◾ Five wells now in production at Arikaree Creek oil-field ◾ Third quarter 2013 net revenue exceeds US$10 million
Production
Average gross oil production in the third quarter of 2013 was 1,528 bbls/day compared to an average of 631 bbls/day in the second quarter. The increase was driven by the successful drilling program at Arikaree Creek with a full quarter of production from the Big Sky 4-11 and Taos 1-10 wells and a first contribution from the Silverton 16-10 and Snowbird 9-15 wells which came on-stream in July 2013.