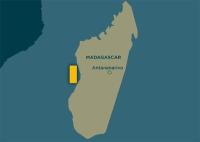 Niko Resources Ltd. is pleased to provide the following updates:
Farm-outs, Non-core Asset Dispositions, and Other Arrangements Update
Farm-out of Grand Prix PSC in Madagascar
Approval has been received from the Government of Madagascar for the previously announced farm-out of a 40% interest in the Grand Prix PSC to OMV, an integrated international oil and gas company, with Niko retaining a 35% working interest. Proceeds related to this transaction are to be received from OMV by October 3rd.
Financing Updates
Credit Facility
The Company is working with its credit facility syndicate banks on a deferral to October 31, 2013 of the date for the re-determination of the borrowing base under its credit facility and to November 30, 2013 for any required adjustment to outstanding borrowings to reflect the new borrowing base. The funds to be received from OMV will be placed in escrow, to be used, if required, to fund any potential reduction in outstanding borrowings.