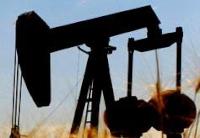 Nitro Petroleum Inc. has completed the drilling of our Giant #2-21 to a depth of 6811' in the West Marlow Hoxbar Unit through Thursday, October 12, 2013 at 4:00 am.
Although the target reservoirs came in slightly below the original depths projected, this appears to be large advantage to the productive nature of oil and gas in the Giant #2-21 from the target reservoirs due to fault isolation from any depletion of these offsetting wells.
Three sands of the Upper Hoxbar interval calculate productive with electric logs along with gas and oil shows from the drilling samples and there appears to be no signs of any depletion from the logs of the target reservoirs. Of the three sands, we were fortunate to penetrate a productive appearing Upper Stray Sand only observed in wells on the down thrown side and east of the trapping fault of the Unit.