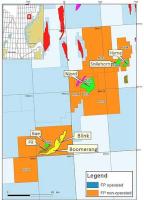 Faroe Petroleum, the independent oil and gas company focusing principally on exploration, appraisal and production opportunities in Norway and the UK, has announced that the partners in the Pil & Bue discoveries (licence of PL586) have decided that a subsea development solution tied back to the Njord (Faroe 7.5%) platform in the Norwegian Sea is the preferred concept for development of the Pil & Bue discoveries (Faroe 25%).
Three competing concepts were considered in the process leading to the final selection by the license partners. A subsea installation tied back to the Njord platform has emerged as the best option and with the full support of the Njord partners (Statoil Petroleum AS – 20% & Operator,  Engie E&P Norge AS– 40%,  DEA Norge AS – 30%, Faroe Petroleum Norge AS – 7.5% and VNG Norge AS – 2.5%). Going forward, the development solution will be matured through the Front End Engineering Design (FEED) stage towards a formal field development plan.
The Njord production facility is currently in Kvaerner's Stord facility in Norway undergoing extensive modifications in order to increase materially its operating life and accommodate a number of new satellite field tie-back developments including Pil & Bue.
Graham Stewart, CEO of Faroe Petroleum comments, "I am very pleased to announce that the Njord facilities have been chosen for the development of the material Pil & Bue discoveries. This is a significant step in the maturation of these high quality discoveries and the fact that they will be tied back to infrastructure we know well, and are joint venture partners in, further consolidates one of our core areas in Norway. We look forward to cooperating with our partners on the Njord licence as we progress this important project towards development."