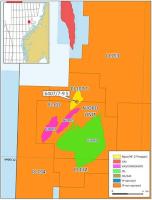 Faroe Petroleum, the independent oil and gas company focusing principally on exploration, appraisal and production opportunities in Norway and the UK, has announced the commencement of the Njord North Flank-2 (NF-2) exploration well 6407/7-9 S (Faroe 7.5%).
The NF-2 prospect is located in Licence PL107C immediately north of the Njord field (Faroe 7.5%). The well will target Middle and Lower Jurassic sandstone reservoirs of the Ile and Tilje formations in a fault-bounded structural closure, with a TD in the Lower Jurassic Åre Formation. If successful, NF-2 could add further reserves and value to the Njord Future Project.
The NF-2 exploration well, located in approximately 323 metres of water, is operated by Statoil Petroleum AS (20%) using the Songa Delta drilling rig, with co-venturers ENGIE E&P Norge AS (40%), DEA E&P Norge AS (30%) and VNG Norge AS (2.5%). Results from the well will be announced when drilling operations have been completed.
Graham Stewart, Chief Executive of Faroe Petroleum comments, "I am pleased to announce the spudding of the Njord North Flank-2 exploration well located in the Greater Njord Area, and in close proximity to the Njord field. NF-2 is a near-field exploration target, which provides further upside potential to Faroe in one of our core areas. If successful this will add another tie-in opportunity to the Greater Njord Area and the Njord Future Project, which also includes the high quality Snilehorn discovery. The NF-2 exploration well follows on from the significant Faroe operated Brasse oil and gas discovery well and side-track announced last month."