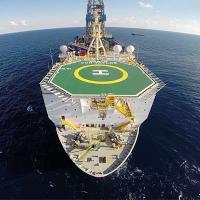 Noble Corporation plc has provided a post-Hurricane Harvey status update on its U.S. Gulf of Mexico fleet, which consists of three contracted units, three warm stacked units and three cold-stacked rigs.
The Company reported four of the contracted or warm stacked units were safely relocated without incident ahead of the storm to other areas of the Gulf of Mexico, while the other two contracted or warm stacked units remained at their existing locations and sustained no damage. The company's three contracted units have already resumed normal operations and remained on rate during the storm, while the three warm stacked units are currently at a temporary location pending further plans for relocation. An assessment of the three cold stacked rigs will be conducted in due course but no significant damage is expected.
Noble is an offshore drilling contractor for the oil and gas industry. The company owns and operates one of the most modern, versatile and technically advanced fleets in the offshore drilling industry. Noble performs, through its subsidiaries, contract drilling services with a fleet of 28 offshore drilling units, consisting of 14 drillships and semisubmersibles and 14 jackups, focused largely on ultra-deepwater and high-specification jackup drilling opportunities in both established and emerging regions worldwide.