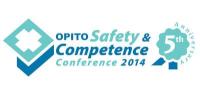 Employers and training providers working to achieve the highest safety standards in the oil and gas industry are being invited to submit their nominations for the fifth annual OPITO Safety and Competency Awards 2014.
The accolades will be presented at the OPITO Safety and Competency Conference (OSCC) held at the Fairmont Bab Al Bahr Hotel, Abu Dhabi, UAE on Tuesday 4 November 2014.
These awards recognise companies that are committed to building a safe and competent workforce through OPITO standards.
Any oil and gas company can enter the Employers Award if it can demonstrate how it has improved safety and is delivering a competent workforce. Criteria to be judged will include the rationale for adopting OPITO standards, the number of staff trained or assessed to those standards in the past 12 months, geographical location and examples where the standards have shown a tangible improvement in safety and competence.