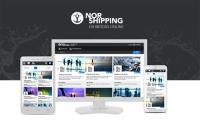 The online profiles of Nor-Shipping's exhibitors will be hosted via a special partner solution on Ocean Hub's unique communication platform.
Every second year, Nor-Shipping, the leading maritime event week, is filled with conferences, networking and countless other activities, with the exhibition at the center of it all. Thanks to a new solution called Nor-Shipping Exhibitors Online, exhibitors can now increase their online visibility, maximizing the event's value to them. This global online location allows them to extensively present their companies and build their identities by sharing knowledge, ambitions and content.
Nor-Shipping Exhibitors Online enables Nor-Shipping visitors to learn about and connect with the exhibitors. Here, they will find everything about the companies involved, where to go at the exhibition and who to meet to build their professional network. It will be easily accessible via the Nor-Shipping website, mobile applications and app, as well as the Ocean Hub website.