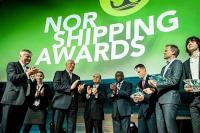 As Nor-Shipping 2017 draws nearer, the excitement and energy generated by the Leading Maritime Event Week begin to gather force. "At every Nor-Shipping, some of the most popular events are the awards honouring leaders in the maritime industry," says CEO of Nor-Shipping Birgit Liodden. "We always get so many great nominees, and the winners have always proven themselves to be true global leaders, not just when they receive the awards, but over time."
Again this year awards will be presented in categories critical to the future of shipping: Energy Efficiency, Next Generation Ship, and Young Entrepreneur.
Nor-Shipping has consistently strived to reward true excellence in the maritime industry. In order to ensure that the Nor-Shipping awards go to the most deserving and inspirational candidates, an independent jury including DNV GL and the Norwegian Marine Technology Research Institute (MARINTEK) will assist in reviewing and evaluating the nominees.
More than just a trophy, the awards give winners and candidates high-level exposure before, during, and after the Nor-Shipping exhibition. The awards ceremony is an integral part of the Nor-Shipping Opening Conference, with international media coverage and elite attendees from across the industry.
Nominees and winners will be presented as part of a gallery during the exhibition, drawing additional attention to their accomplishments during the entire event week.
And the attention doesn't stop there: "Winners have historically achieved a significantly higher profile as a result of receiving their awards," says Birgit Liodden. "Winning a Nor-Shipping award enhances their public image, and opens doors that can lead them toward the ultimate achievement of their goals."
One of the more striking examples was set by the 2015 Young Entrepreneur winner Boyan Slat, founder and president of The Ocean Cleanup, a novel floating waste collection system that is currently being tested in the North Sea. Ultimately destined for the Pacific Ocean to tackle what is known as "The Great Garbage Patch", The Ocean Cleanup was called "One of the world's best inventions of 2015" by Time Magazine.
Other 2015 winners were Ulstein Group, awarded the Next Generation Ship prize for their unique X-STERN design, and Energy Efficiency winner Harvest Frost, a bulk carrier designed by Mitsubishi Heavy Industries, featuring Mitsubishi's Air Lubrication System and a number of energy-saving design innovations.