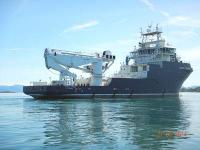 Nordic Maritime announced a five year time charter for its DP2 IMR Subsea vessel, Mokul Nordic, which has been awarded by Noble Energy, the international energy provider.
"At Nordic Maritime, we are delighted to have won this long term charter contract directly with a highly reputed international oil company, Noble Energy. This is a major achievement for us and together with our co-owner of this vessel, MDL Energy, we see this as a potential to grow our fleet of medium size IMR Subsea vessels in the years going forward" said Kjell Gauksheim, Executive Director of Nordic Maritime .
Mokul Nordic is a DP2 VS470 MKIII subsea service vessel capable of ROV / IMR operations.