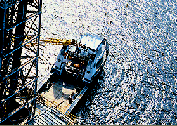 According to the operator of the Siri platform, which hosts production from the three satellite fields, production is not likely to resume this month.
As previously reported production from the Nini, Nini East and Cecilie fields in which Norwegian Energy Company (Noreco) has an ownership interest were shut down in the middle of July when a new crack was discovered in the sponson tank at the Siri platform. While a permanent repair of the Siri platform is not expected until next summer, the operator DONG Energy has said that production from the satellite fields may continue through a temporary solution, which involves direct loading to a tanker.
According to the operator, this solution is now ready to restart from an operation and facility point of view, but the company has not yet received the necessary approvals from Danish authorities. The operator strives to re-establish production as soon as possible.