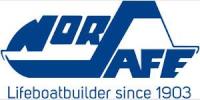 Since Norsafe Aberdeen opened for business in July 2015, its UK offshore clients have benefitted from having a service station close by. The new station provides maintenance support for its clients' current ships and rigs as well as winning some important new business projects with major players in this sector.
One notable business win by the UK site last month was with Prosafe, owner and operator of semi-submersible accommodation vessels, who signed a 5-year service contract with Norsafe AS on 12 January 2016.
The UK site is run by Director Ronnie Vettese, who has over 10 years' experience in the maritime sector, having previously been Divisional Director at First Integrated Solutions, provider of a range of services to the oil, gas and marine industries.
Director Vettese is pleased with how positively the new location has been received by clients and wants to build on this success and grow the business in the UK.
"I am delighted with how well the new UK site has been received, centrally located as it is near our key offshore clients, and I look forward to working closely with them now and in the future," says Vettesse.
"Norsafe is so much more than a global lifeboat designer, manufacturer and maintenance provider. We also produce a quality range of Military and Professional boats, multi-purpose workboats and daughter craft along with a comprehensive range of davits and hooks," he adds.
All Norsafe boats are designed, built and equipped to comply with SOLAS regulations and its new three tiered CARE Plan service agreement has been designed to suit clients with varying maintenance requirements and budgets.