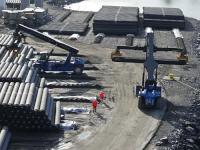 The NorSea Group AS (NSG) has signed a contract with Statoil for intermediate storage of the Johan Sverdrup export pipelines in connection with one of the biggest and most extensive field developments on the Norwegian continental shelf. The contract is valued at close to NOK 80 million.
The contract involves receipt of over 36,000 pipe sections, 36 and 18 inches in diameter, at NSG's Stordbase AS. In addition, transportation to storage and load out onto pipe supply vessels heading for the lay barge at the field, is also included in the scope of work. The completed pipelines will transport oil from the Johan Sverdrup field onshore to Mongstad, and gas onshore to Kårstø.
"The contract represents a milestone for us and will strengthen the company's position in competitions for similar contracts linked to the construction of oil and gas pipelines, currently in the planning phase at different locations across the globe," says Manager of the Project Department at NSG, Stig Holgersen.
NSG has, for the last two decades, developed substantial specialist expertise in the field of pipe logistics, including trans-shipment, storage, handling and management of marshalling yards on major subsea and onshore pipeline construction projects in the North Sea Basin, the Baltic Sea and the Timor Sea.
In recent years, NSG has handled more than 9 million tonnes of concrete weight coated (CWC) pipes by utilising its own specially developed pipe handling equipment. The hydraulic spreader bar ensures that the pipe sections are handled in a safe and efficient manner that reduces personnel exposure during hazardous heavy lifting operations.
"The Johan Sverdrup contract will be NSG's eighth Statoil pipe project, and we are delighted to have been chosen once again by a company as equally committed to safe operations as we are," Holgersen adds.
The contract has a duration of approximately 1.5 years and commences in mid-July 2017.