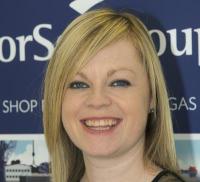 NorSea Group (UK) Ltd has appointed Karen Russell as its first UK Finance Director. Karen becomes the third addition to the Group's executive team as the company continues to grow its activity across Scotland in both the decommissioning and subsea support sectors.
She joins MD Walter Robertson and Operations Director Mike Munro in the new team leading the company's expansion in the UK.
Karen has more than 13 years' experience in the oil and gas industry. She began her accountancy training with Deloitte and Touche, then worked in financial roles with both Qserv and Weatherford before most recently spending almost eight years with Asco as Finance Manager.
In her new role with NorSea Group (UK) she will be responsible for overseeing all of the company's financial functions as well as supporting the business as it increasingly grows its decommissioning capabilities as an integral part of its future growth strategy.
"This is a very exciting time to be joining NorSea Group," said Karen. "It is a growing company in the UK with huge potential for future development as it diversifies from its traditional role as a logistics and base services company into the expanding decommissioning sector. I'm looking forward to taking on a hands-on role and getting very involved in the day to day running of the company in Aberdeen and at our bases at Peterhead, Montrose and Scrabster."