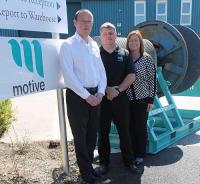 A North-East offshore services firm has attracted GBP 1 million worth of new North Sea contracts after launching a new spooling and inspection division six months ago.
Marine specialists, Motive Offshore Group, which is headquartered in Boyndie near Banff, has formed a partnership with husband and wife team, Ally and Claire Forbes, who have a share in the firm's new spooling and inspection division, situated in the Kirkhill Industrial Estate, Dyce.
Forbes who has several years' managerial experience working with major names in the oil and gas sector, has joined Motive Spooling and Inspection as general manager, with Mrs Forbes taking on the role of operations coordinator. The duo, will oversee business operations as the company continues to strengthen its services nationally and internationally.
Motive Offshore Group has a total of 60 employees across its marine equipment manufacture and rental and fabrication divisions. Motive Spooling and Inspection offers a range of specialist services including wire rope handling and installation, wire rope MRT and pressure lubrication, a fleet of hydraulic spooling winches ranging from 6te to 350te, lifting equipment inspection, NDT and rope access services, and product sales.
The firm's Dyce site includes office and workshop space, and work is also carried out at client premises and assets. Its specialist team currently includes Elliot Smith as client manager, along with six offshore technicians, with plans in place to increase this to cope with demand.
Since its launch in November 2016, the division has already secured major contracts with some of the biggest subsea and drilling contractors.
The division is currently working with a range of clients from a variety of industries including subsea vessel operators/owners, drilling contractors and offshore renewables in the UK and worldwide.
James Gregg of Motive Offshore Group, says, "We are delighted to have signed an agreement with Ally and Claire, who have a wealth of industry experience. The move is in line with our plans to grow and develop the business both in the current markets we are operating in and within new markets on a global level."
Ally Forbes, says, "I have known and worked with Motive for a number of years, and we are pleased to have formed the working partnership. 2017 is an exciting year for the company and we will work closely with the management team to expand our operations and oversee the work of our skilled team."