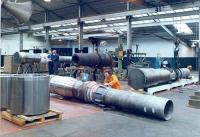 UK provider of integrated welding and engineering solutions – QA Weld Tech – has announced that it is now recognised as a verified and compliant supplier on the Achilles Joint Qualification System (JQS) for the oil and gas industry in Norway and Denmark.
The Teesside-based firm – which operates from nine adjacent workshops comprising over 4600 square metres from the Riverside Industrial Estate, Middlesbrough – is now looking to make its mark in the Norwegian and Danish market.
And having already established a strong reputation in the oil and gas market across the globe, working on major projects including Ichthys LNG Australia, Block 31 Angola and Quad 204 West of Shetland, the company believes its solid pedigree will place it in good stead for competing for new work in these countries.
Launched in 1991, the Achilles JQS community was created to ease the procurement process in the oil and gas sector. The JQS is a supplier register and pre-qualification system used by Norwegian and Danish companies – including the likes of BP, Conoco Phillips, Statoil and Subsea 7 – to manage risk and ensure suppliers meet the industry requirements whilst having up-to-date and validated supplier information.
Speaking about becoming a compliant supplier on the Achilles JQS, Andrew Dean, Business Development Manager at QA Weld Tech says, "Recognised as the biggest oil producing country in Europe, Norway is very much a major hub for oil and gas activity. And as the nearest export market to the North East, it makes sense for QA Weld Tech to be bidding for and delivering work in these areas."
"There have been some very large and exciting discoveries made over the last few years in both Norway and Denmark and QA Weld Tech would very much like to play a role in delivering our leading welding and fabrication services on these major developments. Being registered as a verified supplier, we have demonstrated that we have the capabilities to meet the specified requirements and we are a trusted and compliant supplier," adds Dean.