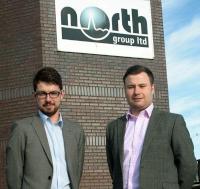 Aberdeen-based North Group has appointed Gregg McMillan as sales manager and promoted Ryan Neave into marketing and communications as it looks to deliver its growth strategy.
Gregg's responsibilities at North will be to build on the company's foundation of 'success through reputation' by developing existing relationships and exploring new business opportunities. Gregg has built up an extensive network of onshore and offshore clients from his previous five years' experience within the Aberdeen market.
Ryan will be tasked with coordinating the group's marketing, advertising and market research initiatives, ensuring that they dovetail with the company's overall strategic plan. Ryan has over five years' experience in various marketing roles within both the private and public sectors.