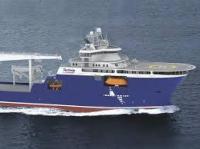 On Saturday July 26, 2014, a ceremony was held in Bergen to officially name the latest new subsea construction vessel to join the Technip fleet, the North Sea Atlantic.
Over 200 guests from ship owner North Sea Shipping, ship charterer Technip and supply chain partners, gathered to attend the ceremony held at the NorYards BMV AS shipyard (previously Bergen Group) in Laksevåg, Bergen, Norway. The event was hosted by North Sea Shipping CEO, Hallvard Klepsvik, and his wife, Sigrid Anne Våge, acted as the vessel godmother.
Technip, in 2012, had signed a long term charter agreement with North Sea Shipping for an advanced new build construction vessel. During the two year construction period, teams from the two companies worked together closely to ensure the project was delivered to expectations.