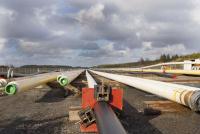 Swagelining Limited has completed work across eight North Sea assets over the last 12 months, including a number of world firsts for the technology.
These contracts saw Swagelining design, fabricate and install almost 90km of polymer liners into water injection pipeline in total, and included 'first uses' of the technology by four major operators.
The work has involved the lining of a 4" line, the smallest ever subsea water injection system to be polymer lined, whilst a further project saw Swagelining's longest pulls to date for 1515m stalks on a 14" pipeline. Projects have been constructed for installation in both bundles and by reel lay vessel.
David Whittle, business development director at Swagelining Limited, said: "Polymer lining has already proven to be an effective method of providing internal corrosion protection to carbon steel pipelines and risers.