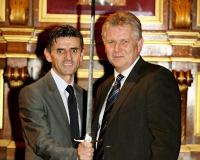 North Star Shipping has won a prestigious Sword of Honour from the British Safety Council. The company, which has the largest, wholly-owned British fleet engaged in the UK offshore industry, is a division of the family-owned global shipping and energy services firm, Craig Group.
North Star Shipping is one of 61 organisations worldwide - and one of only two in the North-east of Scotland - that achieved a Sword of Honour which is awarded to organisations that have demonstrated excellence in the management of health and safety risks at work.
In order to compete for the Sword of Honour, an organisation first had to achieve the maximum five stars in the British Safety Council's health and safety management audit scheme in the period between August, 2014 and July, 2015. They have also demonstrated to an independent panel of experts that they are excellent in their health and safety management throughout the business – from the shop floor to the boardroom.