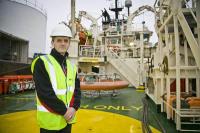 North Star Shipping has been recognised for safety leadership at the annual Safety Awards jointly organised by Oil & Gas UK and Step Change in Safety.
The firm's safety manager, Paul Craig, has won the highly coveted award for his out-standing leadership which has led to demonstrable improvements in safety and reduced the risks of incidents occurring.
North Star Shipping operates and manages Craig Group's fleet of 35 offshore support and emergency response and rescue vessels in the North Sea. Paul oversees the health and safety of the 1,000 crew on-board these vessels which operate in one of the harshest environments in the world.
The award is given to an inspirational leader who motivates and engages their team to work safely and can demonstrate how their safety leadership style has benefited both their employer and the oil and gas industry.