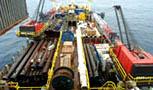 The boards of directors of Northern Offshore, Ltd. and Shandong Offshore International Company Limited have reached agreement on the terms of a recommended cash acquisition of NOF by Shandong Offshore Company Limited, a wholly owned subsidiary of the Purchaser. The Acquisition will be implemented by way of an amalgamation under Bermuda law at an acquisition price of NOK 7.59 per NOF share, payable in cash. The Acquisition Price values NOF's issued share capital at approximately NOK 1.3 billion. The consideration will be financed from the Purchaser's existing cash resources.
The Amalgamation is, among other things subject to approval of NOF shareholders at a special general meeting expected to be held on or about July 15, 2015. The resolution must be approved by more than 50 per cent of the NOF shareholders voting at the SGM. Bidco has received undertakings on customary conditions to vote in favour of the Acquisition from NOF shareholders holding in aggregate approximately 65 per cent. of NOF's issued share capital, including from the Company's two largest shareholders, including Geveran Trading Co. Ltd.
The Acquisition is expected to become effective during the first half of August 2015. At the time at which the Amalgamation becomes effective, each NOF share (other than NOF shares held by the Purchaser, Bidco, any other subsidiary of the Purchaser or any subsidiary of NOF, if any) will be converted into the right to receive the Acquisition Price.