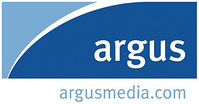 The Norwegian Ministry of Petroleum and Energy (MPE) has selected commodity consulting and price reporting agency Argus as its service provider for oil market monitoring and analysis from 1 July 2017, for a period of three years. The MPE will use Argus services to assist and support the Petroleum Price Board in setting quarterly tax reference prices for Norwegian crudes, also known as the norm prices.Norway is western Europe's largest crude producer, supplying refiners throughout northwest Europe and beyond.
MPE deputy director general Morten Anker says, "Argus offers a team with a solid background in, and knowledge of, both the crude and the refined products markets. It has a broad network of researchers and market connections, and follows both the physical and the paper markets closely."
Argus Media chairman and chief executive Adrian Binks says, "It is a great honour and responsibility that the Norwegian government has chosen Argus as the oil market adviser to the Petroleum Price Board. This is a testament to the quality of our market reporting and depth of oil industry expertise within the organisation. We look forward to supporting the MPE in this critical role over the next three years."
The Organisation of the Petroleum Exporting Countries (Opec) selected Argus as its price data provider in January 2016. Other governments that have chosen Argus prices include Peru in July 2017, and Mexico, Moldova and Russia in 2016.