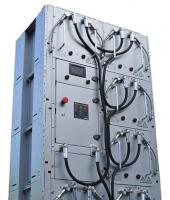 Plan B Energy Storage (PBES) has announced the approval of PBES marine energy storage system for use in electric and hybrid vessels in Norway. Trondheim based PBES is the only lithium-ion battery manufacturer to use the proprietary CellCool™ cooling and E-Vent™ ventilation systems.
The PBES energy storage system was tested at PBES' Trondheim facility on June 17, 2016. The test attempted to force overcharge the batteries into a thermal runaway situation and was prevented by the PBES safety systems. The batteries passed all tests with no uncontrolled thermal event, no fire and no explosion.
The Norwegian Maritime Authority accepts the propagation tests performed 17 June 2016. The propagation tests have successfully been performed in line with propagation test 1 in circular RSV 12t 2016.
"Norwegian Maritime Authority approval is the most important validation PBES could receive," says Brent Perry, chief executive of PBES. "The recognition by an organization like NMA shows the world that the safe deployment of lithium energy storage is no longer a goal, it is here today."
An unbiased organisation, The Norwegian Maritime Authority is the administrative and supervisory authority in matters related to safety of life, health, material values and the environment on vessels flying the Norwegian flag and foreign ships in Norwegian waters. The NMA is also responsible for ensuring the legal protection of Norwegian registered ships and registered rights in those ships.
"PBES was formed to fill a gap in the industrial energy storage market. The founders of this company are recognized leaders in the industry and have earned their reputations for quality, safety and service," continues Perry. "We are now, and always will be completely focussed on safety, performance and value for our customers."