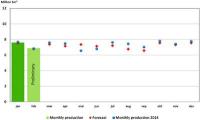 Preliminary production figures for February 2015 indicate an average daily production of about 1 925 000 barrels of oil, NGL and condensate.
This is 6 000 barrels per day (about 0.3 percent) less than in January 2015. Total gas sales were about 10.1 billion Sm3, which is 0.2 GSm3 less than previous month.
The average daily liquid production in February was: 1 548 000 barrels of oil, 332 000 barrels of NGL and 45 000 barrels of condensate. The oil production is 0.3 percent above the oil production in February last year.
The following fields had reduced production in February due to various technical problems: Brynhild, Draugen, Ekofisk and Eldfisk. The Gudrun field has been shut down since the 18th of February due to a gas leak.
The oil production is about 2 percent above the NPD's prognosis for the month.