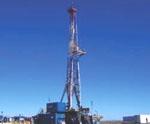 Norwest Energy NL provide an update on the final phase of test work at the Arrowsmith-2 well.
As announced in the Quarterly Report released to the ASX on 31 January 2014, field activities have re-commenced at the Arrowsmith-2 well in the onshore Perth Basin to complete the work-over and final phase of testing.
The Arrowsmith-2 well was re-entered on 29 January 2014, with the 2-3/8" completion tubing string successfully removed from the wellbore without incident. The faulty gas lift mandrel that had created an obstruction in the wellbore has also been removed, with a replacement mandrel not required in order to complete the final evaluation phase of flow back testing. The tubing string was then run back into the well to meet the packer at 2,645 metres depth.