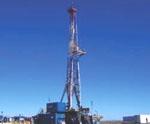 Norwest Energy NL provided an update on the company's local and foreign operations.
Australian Exploration Program
EP368 and EP426
The operator of EP368, Empire Oil and Gas NL, has advised Norwest that following the successful completion of the "Black Swan" airborne geophysical survey that it has identified an exciting, high impact, near term drilling prospect named Lockyer Deep.
Lockyer Deep is a medium risk well, targeting between 25 and 134 BCF, with a best case estimate of 58 BCF1.. This prospect will be targeting the Kingia reservoir fairway which has been identified following the recent drilling success by AWE at Senecio-3, Waitsia-1 and 2 and Irwin-1, all located in acreage immediately west of EP368.
A new and significant gas play in the Kingia Sandstone has been confirmed in the northern part of the Perth Basin which will be further tested to the east of the play with the drilling of Lockyer Deep.