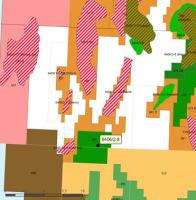 Wintershall Norge AS, operator of production licence 589, is about to complete drilling of wildcat well 6406/2-8. The well proved oil.
The well was drilled about 20 kilometres south of the Kristin field in the Norwegian Sea and 190 kilometres northwest of Kristiansund.
The objective of the well was to prove petroleum in Lower to Middle Jurassic reservoir rocks (Båt and Fangst groups).
The well encountered two oil columns over an approx. 130-metre interval in the Båt and Fangst groups in sandstone of generally poor reservoir quality. Preliminary estimation of the size of the discovery is between one and eight million standard cubic metres (Sm3) of recoverable oil equivalents.
The licensees will assess the discovery with regard to further follow-up. The well was not formation tested, but extensive data acquisition and sampling have taken place.