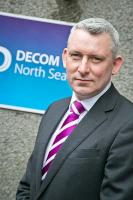 One of the most highly-anticipated conferences within the North Sea events calendar has announced its keynote speaker and published the conference programme.
Supported by principal sponsor, Aberdeen Harbour Board, the eighth annual Offshore Decommissioning Conference take place 27-29 November in St Andrews, UK and welcomes David Peattie, Chief Executive Officer of the Nuclear Decommissioning Authority to launch the Conference's two-day programme as keynote speaker.
Jointly hosted by industry bodies Decom North Sea and Oil & Gas UK, the Conference expects to welcome over 450 delegates, with a programme that reflects the continued evolution of the North Sea decommissioning sector.
From an environmental perspective, the agenda will consider the impact of OSPAR Decision 98/3 on its 20th anniversary; it will also highlight the continued importance of cross-sector learning via the nuclear and marine salvage sectors.
A focus upon market intelligence - including an overview of Oil & Gas UK's Decommissioning Insight 2017 – will investigate future local and global supply chain opportunities, whilst consideration of both mature basin management and current well plugging and abandonment activity will provide insight into the opportunities currently available.
The Conference will close with an emphasis upon one of the decommissioning sector's ultimate aims – collaboration in action – with contributions from operators, offshore and onshore members of the supply chain.
Decom North Sea Chief Executive, Roger Esson, says, "Earlier this year, the OGA set the UK decommissioning sector a challenge to reduce North Sea decommissioning costs by approximately 35%. By sharing the decommissioning knowledge and expertise within the sector, and showcasing the range of innovative technology and services of over 40 exhibitors, the Conference will work to address the OGA's challenge whilst ensuring the supply chain has the capacity and capability to make the most of the opportunities available."
Oil & Gas UK's upstream policy director, Michael Tholen says, "The Conference provides the ideal opportunity to position companies ahead of the decommissioning game, and enable them to play a vital part in the continued success of the UK Continental Shelf exploration, through production to decommissioning."