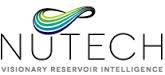 A report delivered by Houston-based NUTECH estimates that the Horse Hill-1 (H-H1) well in the Weald Basin holds between 50-100 billion barrels of oil in place (OIP).
NUTECH used its proprietary NULOOK petrophysical analysis solution to provide the London-based company with a report identifying the Horse Hill Upper Jurassic Kimmeridge formation as holding approximately 72 percent of OIP. According to NUTECH, the geological sequence of Horse Hill is analogous to the productive sections of the Bakken and Permian Basin shale formations, as well as the Bazhenov Formation in West Siberia.
The NULOOK petrophysical evaluation process uses conventional open hole well logs to analyze the texture of the tested reservoir rock. In order to accurately determine the effective porosity of the rock, NUTECH uses a unique multi-mineral based system which combines a multi-source clay volume logic and a series of algorithms to yield permeability, which directly relates to core and production results. The pore size distribution provides an effective understanding of the texture of the reservoir rock and identifies the bound and free fluid.