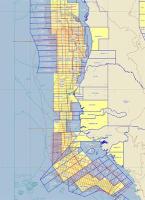 On Friday 6th September and Tuesday 10th September in Houston and London respectively, Dolphin Geophysical, with JV partners TGS, hosted a Roadshow to industry on behalf of the North West Africa Atlantic Margin (NWAAM) to promote the NWAAM 2D survey.
Technical and fiscal presentations were heard from ministerial representatives from Mauritania, Senegal, The Gambia, Guinea Bissau and Guinea Conakry, and concluded by Adrian Robinson, formerly Exploration Director of African Petroleum and now Consultant to Dolphin Geophysical. To kick things off, Dario Chisari, Interpretation Geophysicist from TGS, gave an overview of the interpretation report.
The Roadshows were attended by a range of oil and gas companies, with some major players included.
The presentations were underpinned by the recent 2D survey undertaken by Dolphin Geophysical in 2011, covering approximately 30,000km, which is available for purchase now.