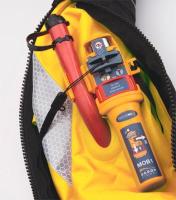 Ocean Signal is introducing its innovative rescueME MOB1 for the first time at Europort with Netherlands distributor True Heading (Stand 3324).
Ideal for a range of commercial applications and already selected by operators in the renewables market for use by windfarm workers, the rescueME MOB1 is the world's most advanced Man Overboard locating device, incorporating both AIS and DSC technologies within the most compact product on the market. It also has an integrated strobe light with moulded lens to ensure the survivor is easily spotted in poor light conditions.
The award-winning device is designed to easily integrate into inflatable life jackets, including those which are specifically developed for commercial use when heavy duty clothing or protective gear is being worn.
At 30% smaller than similar products, the rescueME MOB1 measures just 134mm (height) by 38mm (width) by 27mm (depth) and weighs 90g.