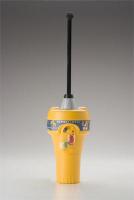 Marine communication and safety specialist Ocean Signal presents its SafeSea® range of products plus the world's smallest personal locator beacon at this year's International Workboat Show, through US and Canada distributor Datrex Inc (Booth 1161).
The SafeSea products provide all essential handheld communication devices required in an emergency situation, while Ocean Signal's rescueME PLB1 is ideal for the commercial market as it can be carried easily and unobtrusively by workers on tug boats, patrol vessels and other workboats.
SafeSea E100G Emergency Position Indicating Radio Beacon (EPIRB)
The SafeSea E100G EPIRB has the longest quoted operational battery life in the industry with enough capacity to operate the EPIRB continuously, typically for four whole days, even using the E100G with GPS fix.
Used to alert search and rescue services in the event of an emergency at sea, Ocean Signal's EPIRB features intuitive operating controls and is very easy to operate, even in a stressful environment.
Careful design and highly efficient transmitter circuits have ensured the product has the longest quoted operational battery life in the industry. In addition, SafeSea EPIRB batteries, which are classified as non-hazardous for shipment, can be replaced by the user, eliminating the need to return the unit to the manufacturer or agent when batteries need changing.