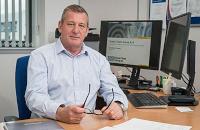 Danish-headquartered Ocean Team Group, specialists in cleaning technical fluids and their transfer systems for the global energy industry, has established its first UK division in Aberdeen in response to an increasing demand for its services from the UK Oil & Gas sector.
The Aberdeen division – Ocean Team Fluidcare UK Ltd – will particularly focus on servicing the offshore and marine sectors as well as onshore refineries and power plants.
It will be headed up by General Manager Alex McBride who has more than 30 years' experience in on and offshore O&G, most recently as a general manager in the Southern North Sea. His particular specialisations include the handling of NORM material and decommissioning.
Jens Peder Thomsen, Managing Director of Ocean Team Group, confirmed that the decision to set up a division in the UK was in response to low oil prices: "We already work with clients in the UK market but establishing a base in Aberdeen to service those clients means we can offer them a more cost effective price. Combined with this are the solutions which we have developed and patented which mean we can clean systems online without shutdown achieving considerable time and cost savings for our clients."
Alex McBride said the Aberdeen division is anticipated to create up to a dozen jobs within the next 18 months: "My initial focus will be to continue to work with existing clients to pass on the benefits of a UK-based facility while identifying opportunities to grow our business and firmly establish Ocean Team Fluidcare UK in this market. We expect this to initially create between 8 and 12 jobs."