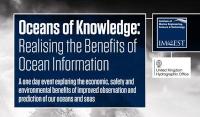 Oceans of Knowledge, an event exploring the latest developments in operational ocean observation and prediction, will be hosted by the Institute of Marine Engineering, Science and Technology (IMarEST) on 11 November 2015 at the Royal Institution, London.
It will be a rare chance to contribute towards the improved use of ocean information in a wide range of practical applications and to network with scientists, engineers, asset managers and decision-makers across disciplines and sectors.
Prof Ed Hill OBE, Executive Director at the National Oceanography Centre (NOC) commented, "The ocean is rapidly rising up the international agenda and its value to society is increasingly recognised; this event explores the value of ocean information as the agenda takes off!"
The event will provide a coherent summary of user requirements for operational oceanographic products and services. It will look to enhance engagement and improve understanding between users and suppliers, in both industry and academia and allow for an exchange of knowledge on best practice and emerging science and technology.