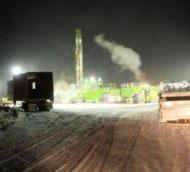 Octagon 88 Resources Inc., has received confirmation from the Operator that the drill license for the third Elkton well (11-4-92-23W5M) has been approved. The Operator plans to spud the Elkton well before December 31, 2014.
The Operator plans to proceed with drilling a vertical well to obtain additional core information that will define an EOR method to be implemented on the horizontal well to follow.
The current program schedule entails working with the operator of these properties CEC North Star to bring on production and cash flow through the company's direct working interests, and indirect investments spread throughout the projects.