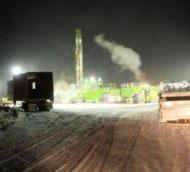 Octagon 88 Resources Inc., (OCTX) says that since the company's last operation update the operator has moved forward with drilling activity to move to primary production on the recently spudded Bluesky Gething well.
The first horizontal lateral from the well pad targeting the initial primary production zone in the Bluesky Gething pay zone has now been completed.
The horizontal portion was drilled 1050 meters into the pay zone. Octagon 88 Resources has received confirmation of an API higher than expected ranging from 12° to 14°.
'The service rig is currently being moved on site to swab the well in preparation for the installation of the pump.' -Manning Project Operator