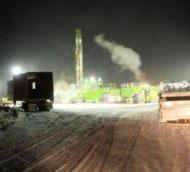 Octagon 88 Resources Inc. is pleased to announce that the contracted service rig has arrived on October 25, 2013 at the Elkton well 9-4-92-23W5. The rig is set up and swabbing equipment has been set in place.
The operator reports that the service rig is presently swabbing the well and will swab the completed depth of the horizontal well being 1517 meters from surface. This stage includes setting the required tubing to approximately the 85-degree point in the horizontal well bore and commencing multiple swabbing insertions to bring the drilling fluids and drilling mud to surface.
Geologically Unique - Elkton Erosional Edge:
◾ 1.05 billion barrels PIIP (third-party validated). ◾ Primary recovery of oil in the Elkton Erosional Edge with 8% to 14% recovery rate with staged and scalable 5,000 bbl/d to 10,000 bbl/d projects. ◾ To be followed up with infill drilling and then subsequent pressure maintenance with and additional 8+% recovery rate for an estimated cumulative 200 million barrels. ◾ Recoverable peak production exceeding 30,000 bbl/d. ◾ Enhanced Oil Recovery (EOR) exploitation targeting an additional 10% to 20% recovery rate with proven EOR technologies.