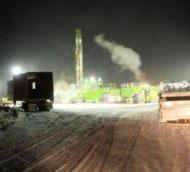 Octagon 88 Resources Inc. announce that the high resolution 3D seismic program has been successfully completed and processed on the Bluesky Gething formation.
Findings confirmed that the Bluesky Gething channels possess five targeted sweet spots which will now be exploited by way of primary production recovery methods used by neighboring Companies such as Baytex and Pennwest.
Octagon 88 Resources will receive confirmation from the Manning Projects operator of the drill license for the first of five planned sweet spots in the Bluesky Gething formation by the end of this week.