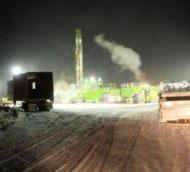 Octagon 88 Resources Inc. announce the first primary production well DH 9-4-92-23-W5 on the Elkton formation's erosional edge has been successfully spudded and currently drilling. The well is located in the Peace River Block of NW Alberta.
The Manning Projects Operator reports:
◾ The Elkton well was successfully spudded at 16:00 October 9, 2013 MST time. ◾ Drilling has commenced and will continue on the vertical leg targeting total depth of 480 meters. ◾ The complete Elkton pay zone will be cored with the core samples sent from the site to AGAT Labs. Post Coring and testing the horizontal leg will be kicked off.
Geologically Unique - Elkton Erosional Edge:
◾ 1.05 billion barrels PIIP (third-party validated). ◾ Primary recovery of oil in the Elkton Erosional Edge with 8% to 14% recovery rate with staged and scalable 5,000 bbl/d to 10,000 bbl/d projects. ◾ To be followed up with infill drilling and then subsequent pressure maintenance with and additional 8+% recovery rate for an estimated cumulative 200 million barrels. ◾ Recoverable peak production exceeding 30,000 bbl/d. ◾ Enhanced Oil Recovery (EOR) exploitation targeting an additional 10% to 20% recovery rate with proven EOR technologies.