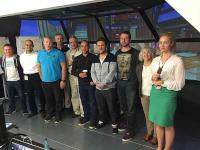 Odfjell Drilling and BP have just completed a jointly-designed bespoke training programme, "Drilling Skills – Enhancement", using Robert Gordon University's (RGU) state-of-the-art drilling simulation suite (DART®).
The four-day course, which involved a number of specialist instructors, was designed specifically to support the up-coming drilling programme scheduled for BP's Clair Platform. The prime objectives were to concentrate upon maintaining wellbore stability during drilling operations, anticipating any potential well control issues and the integration of drill-crews with specialists from Odfjell Drilling and BP.
Underpinning the courses was a focus upon teamwork and how team performance could be improved across the entire drilling programme. Dr Margaret Crichton, a Visiting Professor at RGU, delivered training on all the key non-technical areas and then observed the teams in action, while they undertook ever increasing complex drilling exercises on the simulator.
Each of the individual courses received visits from third-party specialist support service personnel and from senior company representatives, demonstrating the commitment from both organisations on delivering safe-working practices, improved competency on the drill-floor and excellent team working.
Anton Gerbrandy, Well Superintendent for Clair, says, "BP has used the DART® facilities previously for 'Advanced Deep-Water Well Control' and 'Extended Reach Drilling' courses, but this particular course represents a new approach into preparing drill crews, service company personnel and our engineers and supervisors both technically and non-technically for the execution of challenging drilling programmes and building the teams' capabilities in advance of a new drilling campaign."
Ali McDonald, VP Operations UK at Odfjell Drilling, adds, "Having new crews working together in the simulator environment has been hugely beneficial in preparing the teams for the drilling campaign. We have had good feedback from our teams who participated in this course."