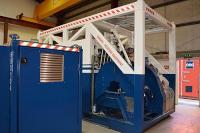 OEG Offshore, container and module manufacturer has successfully completed a number of module upgrade and refurbishment projects to reflect the offshore industry's continued development of higher technical and operational standards.
A number of existing customers have contracted OEG to carry out major refurbishment and upgrade of existing offshore modules within their fleet, some originally built by OEG, to comply with regional and international codes and regulations such as DNV 2.7-2, NORSOK and IEC certification.
The upgrade of modules from safe area to Zone 2 (ATEX Cat 3) has included ROV and multi-purpose workshops to VSD and control modules for subsea contractors and service companies. To achieve the increased certification approvals OEG carried out a full gap analysis of the design requirements, major electrical works which included the installation of full pressurisation, fire and gas systems and other critical modifications to comply with Zone 2 requirements.
In addition, a quick turnaround project was recently completed for an upgrade to an existing Drill String Test (DST) module to comply with NORSOK Z-015 for immediate mobilisation on a North Sea project. Major modifications were made to the electrical system, fire & gas system and HVAC system in order to achieve full compliance and validation by DNV GL.
OEG continue to assist customers worldwide with compliance to DNV 2.7-2 regulations for their offshore zoned modular fleet. The Aberdeen base is currently upgrading a specialist wireline module and hydraulic power pack (HPU) with compliant cabling, control panels and other certified components as well as installation of fire and gas detection equipment.
Ewan McLean, Workshop Manager (UK), says, "In challenging times when CAPEX is heavily guarded, upgrade and refurbishment of customer owned equipment is a cost effective option to extend its working life. Our in-house technicians have the skills and experience to offer ongoing maintenance programs, CompEx inspections and module refurbishment services."