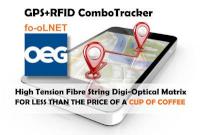 OEG Offshore has launched a ground breaking live asset tracking system combining GPS and RFID technology to provide operators and service companies with real-time tracking of assets by-the-second.
The technologies, previously available as standalone systems, have been brought together by OEG Offshore's research and development team – setting a new standard for global asset tracking.
Launched today, the "Flexible Omni-Operational Locator (FO-oL)" system will be offered to customers using OEG's CCU and A60 products, worldwide.
Rob Goodall – OEG's VP of International Business Development said: "This is a real game changer – we take pride in being able to offer a ground breaking, innovative approach to tracking our assets.